Wildflower Notes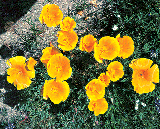 California Poppy - Left, is the state flower. It has shiny, golden-orange bowl-shaped flowers with lacy, bluish-green leaves.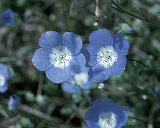 Baby Blue Eyes - Right, has large, bright blue flowers. Leaves are pinnate lobed on sprawling succulent stems.

Field Mustard
- Left, Brassica rapa subsp. oleifera is a relative of turnip, napa cabbage, bomdong, bok choy, and broccoli rabe, a
nd has yellow flowers. Photo courtesy of Gavin Chan.